Activities @ Pukeora
Attractions available at or near to Pukeora Estate
Wine Tasting: Enjoy a taste of our estate grown and home made Pukeora Estate wines.
Art Studios: Visit the studio of Internationally renown artist Cefyn Gauden. Viewing on site of Cefyn's exciting contemporary paintings is possible by appointment. Check out Cefyn's website www.cefyngauden.com.
Also we have our resident artist Laura Wilson show casing her lovely work in her gallery near the summer cellar door tasting area. See goldstarwork.com.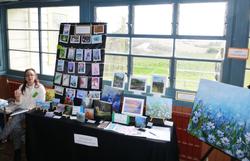 Swimming in Heated Pool: The heated pool within the complex is 11m by 8m and is available as an option within the hire package. It can be heated up to 35oC.
Tennis: A "rustic" hard surface tennis court is available on site, so bring along your racquets.
Paintball: A challenging new paintball field has been developed on the riverbank nearby. See www.pukeora-paintball.com or phone 0800 Bushball (287 422).
Cycling on riverside trails: There is an easy 7km off-road ride on the stop bank to Waipukurau which joins the Rotary Club's new riverside track to Waipawa (34km return).
Trout Fishing: The Tukituki River flows below Pukeora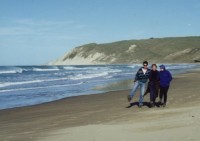 and is popular for fishing. 3-4 Kg Trout can be caught here. See Access map & details.
18 Hole Golf Course: The Waipukurau Golf Club is located 2 km from the centre.
Abseiling: Anchors are in place for abseiling from the Pukeora cliff-top. (Instructor required)
Orienteering: Orienteering has been popular around and about the Estate. The local orienteering club have produced suitably detailed maps of the area.
Walking: The Ruahine Ranges and a number of other areas all within a 45 minute drive provide easy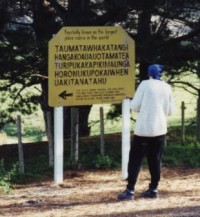 to challenging tramps. Numerous easier walks are available closer to the centre. Sunrise Hut is a great tramping day out for the keener walkers.
Beaches: Central Hawke's Bay beaches are within 45 minutes drive. These include Kairakau, Pourere, Aramoana, Blackhead and Porangahau. Swimming, diving and fishing are popular activities. Te Angiangi is a marine reserve.
Visit to the World's longest place name: A 40 minute drive leads to a hill which has the longest place name in the world.
Visits towns of Waipukurau & Waipawa - Cafes, Galleries, Museum & Shopping: Electra Gallery, gift shops, cafes, antiques, Early Settler's Museum to name a few. Waipukurau is 6 Km, Waipawa is 10 km away from Pukeora Estate.

Gliding / Ride in Tiger Moth: The Waipukurau Aero Club can arrange a glider or microlite flight from the aerodrome about 2 km from the centre. Or take a ride in the aero club's tiger moth bi-plane.