Weddings At Pukeora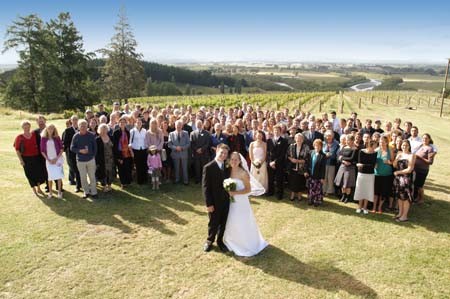 Venue
For that special day, Pukeora Estate is the ideal wedding venue providing:
On-site ceremony areas
Stunning views over vineyard and beyond
Choice of indoor/outdoor reception areas
Accommodation on-site (sleeps up to 120)
Exclusive hire is an option
A choice of reception areas can accommodate up to 440 dinner guests. Generally the reception rooms are available a day or two ahead of the big day to enable plenty of time for setting up the room(s) in the style of your choice.
For larger receptions (100+):
For groups of 200 or more we suggest you begin with the sit-down part of your reception in the Turiri Room. Once formalities are over you can dance away the night on our parquet floor in the Ruahine Hall. With the two adjoining rooms the revelers can have their loud music and other guests can quietly chat (provides the best of both worlds !). The Ruahine Hall can be the dinner and dance venue for groups from 100 to 200.

For medium sized receptions (50-130):
Our Ruataniwha Function Room has great views and an outside balcony with even better views.
For receptions up to approximately 80:
Our café is the ideal place to hold your reception.
Catering
We provide delicious beautifully presented wedding feasts to suit your style and budget. Please enquire for sample menus.

Bar
We are fully licenced and will provide bar facilities including our own estate wine at extemely competitive prices. For large weddings we may allow byo beer subject to conditions including a corkage charge.
Accommodation
Friends and family can all stay very conveniently in the main accommodation areas.
Prices
For the prices to hire the venue, please see Convention Venue costs.
For accommodation costs please see Accommodation.
A modest cost of $150 is applied for a ceremony in the vineyard or grounds.