Contact Us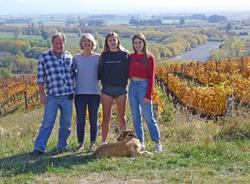 Pukeora Estate
Your Hosts:
Max Annabell (Director, Viticulturist & Winemaker)
Kate Norman (Director)
Pukeora Estate is a family owned and operated business. We live on site with our 2 teenage daughters, Jessica and Marika and labrador Stella..

Postal Address
Pukeora Estate
208 Pukeora Scenic Rd
RD1
Waipukurau 4281
New Zealand
Telephone: +64 6 858 9339
Email: info@pukeora.com
Website: www.pukeora.com

---
Location
How to get to Pukeora Estate
The venue is located 4.5 Km South of Waipukurau on SH2 in sunny Central Hawke's Bay, New Zealand.
Driving times are 3 hours from Wellington, 1.5 hours from Palmerston North and 1 hour from Napier.
Nearest domestic airport: Napier (or Palmerston North)
Nearest International airport: Auckland or Wellington.
The Waipukurau aerodrome (grass strip) is 2.5 km away


From the South:
From Wellington/Palmerston North, get on to SH2 passing through Dannevirke & past the Takapau turnoff. (ie Do NOT turn into SH50 !)
After approx 15km past Takapau, the Waipukurau Golf Course appears on left. Approx 1.5 Km past golf course, pull off SH2 into the left layby beside the street-lamp for the Pukeora Scenic Rd turning (to the right). Take care of SH2 traffic, when all clear, cross the highway into Pukeora Scenic Rd and head for top of hill.
Note: at night time this turnoff is marked by a street light.
Drive up Pukeora Scenic Rd (alongside the forest). At top of the hill turn SHARP LEFT into the Pukeora look out. Drive along Pukeora driveway to the centre.

From the North:
Driving from Napier/Hastings take SH2 South to Waipawa and on to Waipukurau. Continue on SH2 through and past Waipukurau towards Wellington for approx 2.5 km.
After passing Hatuma Café (on right) take the 3rd next left hand turnoff into Pukeora Scenic Rd.
Note: at night time this turnoff is marked by a street light.
Continue along Pukeora Scenic Rd for 2 km up the hill. At top of hill turn right into Pukeora lookout and drive along Pukeora driveway to the centre.
Please Note: If you overshoot Pukeora Scenic Rd from either direction, don't worry - continue on about 3 km and you will find the other end of Pukeora Scenic Road (ie Pukeora Scenic Rd joins SH2 at both ends !).
---
Map