Welcome to the website of Pukeora Estate...
HOT NEWS: Pukeora Estate changed hands in August 2023. The venue and winery has SOLD.
Under new management, new owners Victoria and Dale will be providing Pukeora Estate with a new lease of life.
For enquiries regarding the Pukeora premises and vineyard, please email Victoria & Dale.
Pukeora Estate is a stunning hilltop setting for the family run vineyard and function venue.
Pukeora Estate wines are still available online or by mail order via the on-line sales site.
Happy browsing. To contact the previous owners please email Max & kate.
*** Wine Sales (R18+) - Cellar Door & Tastings Closed - Remote Sales Welcome ***
Cellar Door: Sorry - we are unable to offer cellar door tastings. Sorry for the inconvenience.
The wine is still being sold mainly via remote sales by Max & Kate, the previous owners.
On-line or phone wine sales are welcome (R18+). See Pukeora wine sales.
---
Vineyard & Winery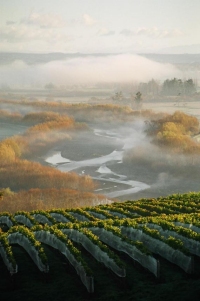 The stunning limestone hillside was purchased in 2000 with the principle purpose of planting grapes. Over the next 3 years 5 Ha of vines were planted and a small boutique winey was created in an original sanitorium basement.
Award winning wines grown on our limestone slopes are available. The wines have been under the Pukeora Estate label and the premium Pukeora Ruahine Range label. The wines include Pinot Gris, Chardonnay, Pinot Noir, The Benches Red (Merlot based blend) and a "sticky" Noble Selection of chardonnay and semillion grapes.
On-line sales (R18+) are available from the previous owners, Max & Kate. For more information see our Wine pages.
---
What's New
The "Rumour" is True -> SOLD. After an eventful and exciting 23 years Kate and Max have sold the vineyard and main premises.
This Town - the movie. Released Aug 2020. A great kiwi laugh out loud film set around our town. Pukeora is proud to have been the base for the cast and crew during the shoot. A lovely bunch of people. A number of scenes shot around Pukeora. Strongly recemmended viewing. See trailer: This Town.
Pinot Noir Geographic Boundary Redrawn: A great review for Central Hawke's Bay wines by John Saker in The Dominion, 22 Jul 2017. See Article.
---
*** Events ***
CHB Artisan Festival **** No Longer Being Held ****
Having been the proud hosts of the 18 previous CHB The Festival events, we are sad to share the news that the 2019 event was the last one.