Welcome to the website of Pukeora Estate...
Pukeora Estate is a stunning hilltop setting for our family run vineyard, boutique winery and function venue.
Our wines under the Pukeora labels are available for via our on-line sales.
Please note we are no longer able to provide catering services or host groups in our accommodation facilities as the property is on the market and our services have been significantly downscaled. We apologise for the inconvenience.
Happy browsing. Any comments/questions ? Please email us.
********* Wine Sales (R18+) - Sorry - Cellar Door Closed - Remote Sales Welcome **************
Cellar Door - Sorry - we are unable to offer regular weekend cellar door tastings & sales this summer. Sorry for the incovenience. Cellar door is too hard to operate due to a number of factors including shortage of staff and covid related uncertaintities etc.
Sales via on-line or phone are welcome. Casual sales may work but pre-organsied pickups are easier to manage.
Please see our cellar door page for more details. Pease see cellar door.
On-line or phone wine sales are welcome (R18+). See Pukeora wine sales.
---
Venue & Hospitality
Pukeora was once a hospital, now hospitality is the name of the game.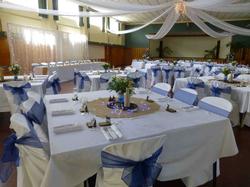 The Venue is the ideal centre to hire for an event.
Please Note: From September 2017, our circumstances have changed due to Pukeora being on the market. We have scaled back operations and are no longer able to take residential group bookings nor offer venue hire. We apologise for the inconvenience.
The extensive indoor facilities are available for exclusive hire and represent extremely good value for money. They comprise sleeping accommodation for groups, large reception areas and classrooms, a commercial kitchen, and a pool.
Groups of 20+ up to 116 people can be accommodated mostly in twin/double rooms. Meals/bar service can be provided or groups can hire on a self-catering basis.

Many and varied activities are available on site or nearby. We are delighted to host the studio of the internationally renown artist Cefyn Gauden. Cefyn's contemporary paintings can be viewed by appointment. See activities

Check out the amazing variety of settings as a film location

Read about the history of Pukeora
---
Vineyard & Winery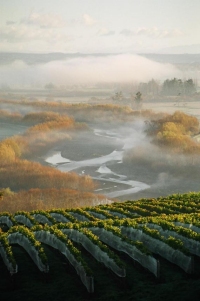 The stunning limestone hillside was purchased in 2000 with the principle purpose of planting grapes. Over the next 3 years 5 Ha of vines were planted and a small boutique winey was created in an original sanitorium basement.
Award winning wines grown on our limestone slopes are available. Our wines are sold under the Pukeora Estate label and the premium Pukeora Ruahine Range label. Our wines include Pinot Gris, Chardonnay, Pinot Noir, The Benches Red (Merlot based blend) and a "sticky" Noble Selection of chardonnay and semillion grapes.
As the property is on the market we have not harvested fruit for our own wine making since 2018 and are currently only tending the vines for continuity rather than production.
On-line sales (R18) are available. For more information see our Wine pages.
---
What's New
This Town - the movie. Released Aug 2020. A great kiwi laugh out loud film set around our town. Pukeora is proud to have been the base for the cast and crew during the shoot. A lovely bunch of people. A number of scenes shot around Pukeora. Strongly recemmended viewing. See trailer: This Town.
The "Rumour" is True -> For Sale from 2017 ! After an eventful and exciting 20+ years Kate and Max have decided to put Pukeora on the market. For details please see TradeMe property listing.
Pinot Noir Geographic Boundary Redrawn: A great review for Central Hawke's Bay wines by John Saker in The Dominion, 22 Jul 2017. See Article.
---
*** Events ***
CHB Artisan Festival **** No Longer Being Held ****
Having been the proud hosts of the 18 previous CHB The Festival events, we are sad to share the news that the 2019 event was the last one.
Due to our property being on the market there are no plans to host other events in the future.
---
Like us on Facebook ?
You can see us on facebook "Pukeora Estate: Wines, Venue, Accommodation".