Welcome to the website of Pukeora Estate...
Pukeora Estate is a stunning hilltop setting for our family run vineyard, boutique winery and function venue.
Our wines under the Pukeora stable of labels are available for tastings and sales at our cellar door or via our on-line sales.
Accommodation for groups of up to 116 people is available at reasonable prices.
Happy browsing. Any comments/questions ? Please email us.
*********** Wine Sales During Covid-19 - Open for On-line & Delivery/Pickup ***************************
Covid-19 Lockdown: On-line or phone (non-contact) wine sales still available (R18). See Pukeora wine sales.
Our courier is still operating more or less as normal during Covid-19 lockdown.
During Covid-19 Levels - Personal face-to-face sales or tastings not available - Sorry.
Under normal conditions -> please see our cellar door page about ideally pre-arranging a time as we can be hard to find if you just rock up. Pease see cellar door.
****************** Vantage Age Group National Cycling Champs - Accommodation ****************
This event has been postponed until July 2020. Organisors are due to Make an announcement on June 9th to confirm if event will take place. If the event goes ahead we will open our accommodation booking for nights 16th to 18th Jul 2020. We can sleep up to about 80 people. Our facilities can be made cosy with our central heating. We hope to see you in July !!
---
Venue & Hospitality
Pukeora was once a hospital, now hospitality is the name of the game.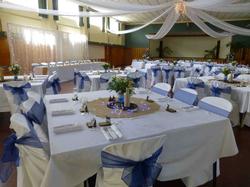 The Venue is the ideal centre to hire for an event.
Please Note: From September 2017, our circumstances have changed due to Pukeora being on the market. We are only taking select residential bookings and are no longer able to provide inhouse hospitality unless specifically arranged. Some self-catered groups on shorter term bookings may still be able to be accommodated. We are happy to discuss bookings as they arise but please be prepared that we may not be able to accept a booking. We apologise for the inconvenience.
The extensive indoor facilities are available for exclusive hire and represent extremely good value for money. They comprise sleeping accommodation for groups, large reception areas and classrooms, a commercial kitchen, and a pool.
Groups of 20+ up to 116 people can be accommodated mostly in twin/double rooms. Meals/bar service can be provided or groups can hire on a self-catering basis.

Many and varied activities are available on site or nearby. We are delighted to host the studio of the internationally renown artist Cefyn Gauden. Cefyn's contemporary paintings can be viewed by appointment. See activities

Check out the amazing variety of settings as a film location

Read about the history of Pukeora
---
Vineyard & Winery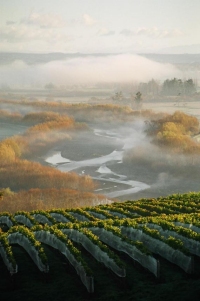 The stunning limestone hillside was purchased in 2000 with the principle purpose of planting grapes. Over the next 3 years 5 Ha of vines were planted and a small boutique winey was created in an original sanitorium basement.
Award winning wines grown on our limestone slopes are available. Our wines are sold under the Pukeora Estate label and the premium Pukeora Ruahine Range label. Our wines include Pinot Gris, Chardonnay, Pinot Noir, The Benches Red (Merlot based blend) and a "sticky" Noble Selection of chardonnay and semillion grapes.
We have a summer cellar door open at weekends. On-line sales are also available. For more information see our Wine pages.
---
What's New
***** Gold Medal: Pukeora Ruahine Range The Benches 2013 ***** In the Royal Easter Show Wine Awards 2018 The Benches was one of 4 wines in the merlot dominant class to win a gold medal.
The "Rumour" is True -> For Sale ! After an eventful and exiting 18 years Kate and Max have decided to put Pukeora on the market. However there is no rush, life goes on as normal for now. The Festival buzzed, the grapes are ripening, wines will flow and we'll still be here for a while yet ! For details please see TradeMe property listing.
Pinot Noir Geographic Boundary Redrawn: A great review for Central Hawke's Bay wines by John Saker in The Dominion, 22 Jul 2017. See Article.
Cellar Door: The cellar door is open in summer season. Please see top of this page for specific times. Come in for a complimentary tasting, and view local artist Laura Wilson's paintings in our new gallery (for more see goldstarwork.com).
Export: We have since Feb 2014 been exporting some of our wines to Singapore. If you happen to be passing through Singapore there is no better pace to grab a wine (on and off sales) and a bite to eat than Merchants of Singapore.
Latest Vintage: The 2017/2018 season was a great vintage. A moderate frost free start, a warm mid summer with excellent flowering producing a good sized crop. Ripening progressed smoothly dodging a passing cyclone in autumn. As we were winding down with the property on the market, we sold some chardonnay grapes and didn't pick the pinot noir this year. We still harvested 13 tonnes for our own production.
The prior 2016/17 season was a little mixed, starting cool, heating up in mid summer, a dose of cyclonic weather in early autumn with enough nice late warm weather to finish off our harvest with 20 tonnes picked.
Wifi for Guests: For those guests who need wifi we have free wifi available through various areas of the complex (not guranteed in all bedrooms but in many of the social areas wifi is available).
For local information a new website provides a great guide to our district: www.chb.net.
---
*** Events ***
CHB Artisan Festival
We were the proud hosts of the 17th 2019 CHB Artisan Festival from 5th-8th September. Despite the mostly inclement weather the event was a great success. www.thefestival.org.nz.
Due to our property being on the market we do not have any events in the diary other than summer cellar door. Please see home page for details.
---
Like us on Facebook ?
You can see us on facebook "Pukeora Estate: Wines, Venue, Accommodation".